Learn Reiki and receive Reiki Master Healings in Geelong with Gillian Moxom.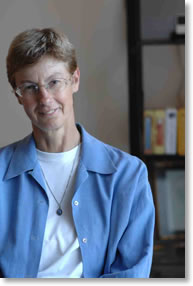 Gill became a Reiki Master: Teacher and Healing Practitioner in 1996 and soon after established The Healing House.
She has been a Full- Time Reiki Teacher and Healing Practitioner since then and now has a practice in St Albans Park in Geelong, as well as her practice in Ivanhoe in Melbourne.
Gill is a Reiki specialist offering pure Reiki Master Healings and teaches all phases of Reiki in Geelong.
Reiki can have a profound and positive influence on your general health and well-being. Reiki offers harmonizing & healing for your emotional, mental, physical, & spiritual self.
Gill has sensitivity, care, acceptance and understanding with Reiki Master Healings and Reiki Workshops at The Healing House.
The Healing House Mission Statement is:
To offer a supportive space for heartfelt connection.
Connection with self, connection with others and connection with purpose.
Why learn Reiki With Gill at The Healing House?
Gill brings a wealth of knowledge, experience to her Reiki Classes.
Being a Full Time Reiki Healing Practitioner and Reiki Teacher since 1996 and specializing in Reiki, Gill offers on-going support and opportunities to enhance your connection with Reiki and your Reiki skills.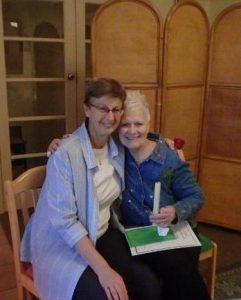 Gill is an accredited Reiki Master with the Australian Reiki Connection – Australia's leading Reiki association and is a member of the Association of Australian Reiki Professionals. She has studied counselling with The Cairnmillar Institute.
All phases of your Reiki learning experience with Gill at The Healing House are in alignment with the Procedures and Integrity Standards of The Australian Reiki Connection and the Association of Australian Reiki Professionals.
Gill is actively involved with an Wholistic approach to her own life. She has Meditation as a part of her daily life, pursues physical exercise and consciously seeks opportunities to expand her Knowledge, Wisdom and Personal Healing,  all with Reiki as the key.
Personal Attention and Guidance
Because of her own experience of learning Reiki in a large group,
Gill limits her Reiki Workshops to nine participants.
This assures all participants of personal attention and guidance as well as supervised healing practice and healing experiences throughout the Workshop.
You will learn how to offer healings to others as well as self healing and be offered on-going support on your Reiki Healing journey
Gill's small and personalized Reiki Classes will support you as you learn about Reiki and integrate this wonderful healing energy.
As a bonus, at the conclusion of Gill's Reiki One and Reiki Two Classes, all participants receive a Voucher for a One Hour Personal Appointment with Gill.
At this appointment you will have the opportunity to receive a Reiki Master Healing. The Personal Appointment also gives you the opportunity to ask Gill any questions that may have after the completion of the Workshop. The Personal Appointment can be in either St Albans Park in Geelong or Ivanhoe in Melbourne.
With Gill's experience as a trainer and her dedication to Reiki, she brings clarity and patience, gentleness and calmness, compassion and understanding to her Reiki Training. She explains all aspects of Reiki with a down to earth and practical approach that is easy to understand and easy to bring into daily life.
Workshop Schedule
Workshop Dates and the Fee structure is on the Reiki Workshop Schedule and Enrolment Page of this Website. Unfortunately at times, due to unforeseen circumstances, the schedule can change.
Please call Gill on 0407 561 607 to confirm all dates.
What are the Benefits of Reiki?
Reiki offers a unique opportunity for personal healing, along with the ability to offer healings to others. Reiki is the flow of Universal Life-force energy which supports our innate ability to heal.
It is wonderful to have Reiki in your life.
Reiki brings your internal energy field, physical energetic self and external energy field into balance – back to its natural state of harmony.
This state of harmony results in
** feelings of inner peace,
** release of physical stress and stressful thoughts,
** increased energy,
** a greater sense of personal well being,
** a deeper connection with your personal emotional, mental, physical and spiritual self
** and so much more!!
 Reiki Master Healing

Receiving a Master Healing can create awareness for physical healing along with personal and spiritual growth.
A Reiki Master Healing supports emotional and mental peace, stability and healing. These healings ease tension and create a sense of peace and well-being. They promote positive personal growth and can take you to a new level of personal wholeness, balance, harmony and spiritual growth.
Reiki Distance Healing
If you can't come physically to The Healing House to see Gill and experience a 'hands on' healing, you could consider receiving an energetic Reiki Distance Healing. 
There are two ways to receive a Distance Healing with Reiki.
You can receive distance healings as a purely energetic experience.
These are a half hour appointment. At the conclusion Gill will send you a message or text with guidance and feedback from your Higher Self to support the Reiki Healing. 
Reiki Distance healings with written feedback are powerful and effective healings. They offer support for  you understand issues in your life at a deeper, spiritual level.  With a Distance Healing with written Feedback you will receive the written feedback in the mail. It will be feedback for you on issues which are raised from your unconscious to your conscious awareness. You will also receive feedback and guidance from your Higher Self to support your healing.
How to get Started with Reiki at The Healing House?
There are two ways to get started on your Reiki journey with Gill at The Healing House.
**** Contact Gill and arrange a Personal Appointment. At the appointment you and receive a Reiki Master Healing with Gill. Personal Appointments in both St Albans Park in Geelong and in Ivanhoe in Melbourne.
**** Contact Gill and arrange how to confirm your place at one of her Reiki Training, Attunement and Healing Workshop. Reiki Workshops are available in both St Albans Park in Geelong.
Call The Healing House
on 0407 561 607 and speak with Gill personally.
She will welcome your call and inquiries.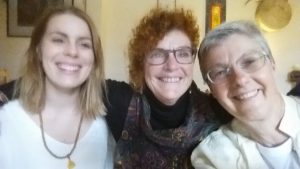 At The Healing House Gill offers….
REIKI WORKSHOPS
Reiki 1
Reiki 2
Reiki 2 Extension
REIKI PERSONAL TRAINING
Reiki Master: Healing Practitioner
Reiki Master: Teacher & Healing Practitioner
PERSONAL Reiki Master Healings
DISTANCE REIKI HEALINGS for Pets & Humans
CIRCLES
Reiki Healing Circles
Personal Growth and Spiritual Awareness Meditation Circles for Women
SACRED CEREMONIES
Home Blessings
Sacred Earth Circle Creations
OTHER WORKSHOPS
Chakra Workshops – Understanding Your Chakras and The Advanced Chakra
World Wide Healing Connection of Wesak
Reflect, Review & Renew – Wholistic Conscious Manifestation in Action
CORPORATE TRAINING
'Conscious Relaxation – A Pro-Active Stress Strategy'