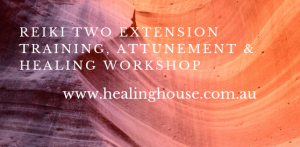 Reiki 2 Extension Workshop Dates

"It is with deep sadness that the current Covid-19 Pandemic and the 'Social Isolation" guidelines have impacted The Healing House.  I have been advised that Reiki Workshops cannot be held in Australia until the Pandemic is resolved. While Reiki will support all humanity and Reiki itself can cause no harm … the Virus can be unknowingly transmitted … and that transmission needs to be avoided at all costs. With an expected 6month prediction for the Pandemic to pass I envisage that the next Reiki Two Extension Workshop will be safely held in September/October 2020. Hopefully it all passes quickly and Workshops can be held prior to then. Thank-you for your understanding. 
There are no shortcuts when learning Reiki … to teach Reiki in anything other than in a face to face hands-on workshop environment is not an option."
Many Best Wishes
Yours Truly
Gill
You are very welcome to register your interest in learning Reiki with Gill at The Healing House

 Reiki Two Training, Attunement & Healing Workshop with Gill
is the pre-requisite for Reiki Two Extension.
If you have learnt Reiki Two elsewhere, you are welcome to attend a
Reiki Two Workshop with Gill at a
reduced fee to qualify for this workshop.

Please call Gill for more detailed information
Mobile: 0407 561 607

# The Fee is $295-
# Concession Fee: $275-
(For those who have a Health Care Card)