Understanding the Chakra System has supported my personal healing journey with Reiki
Time is passing so very quickly. I remember my Grandmother saying a similar thing and I thought to myself how could that be? But here I am in her paradigm of existence. Funny how that happens.
Time is such an indefinable and discretionary part of our lives.
Time rolls on with the same rhythm. Despite that constant rhythm some hours, days, weeks, months and years seem to take longer than others.
I often find myself pondering time and the power and influence that it has on us.
It is thought that our relationship to time can be tied to our birth. As we come to terms with our human form in our birth process and formative years, we form our terms of reference for life and our survival belief systems.
Deeper Understanding and Appreciation of Life
The healing and teaching that I have been involved with through Reiki has brought forward interesting understandings about the link and devotion we have to those early beliefs.  These understandings have given me a sense of personal empowerment, opening up my heart and mind to the potential and possibility of my life.
Before Reiki came into my life, I thought my lot in life was what I was stuck with.
My beliefs tied me to believe that I had to continue with what I had and how I was within this world.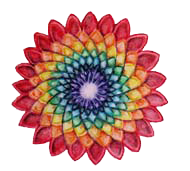 I have learnt that we are a flowing energetic being and the Chakra System is reflective of that within our daily lives.
I have developed Chakra Workshops that are very thorough in their content. They open awareness about this vitally important area of our lives and healing.
There are no specific prerequisites to attend "Understanding Your Chakras – The Chakra Workshop" – simply a desire to learn and a willingness to heal.
"Understanding Your Chakras – The Chakra Workshop" is the prerequisite for "The Advanced Chakra Workshop"
Please contact me if you would like more information – or to reserve your place.
It's a  great workshop – some who have completed in recent years have described it as life-changing. You can contact me on 0407 561 607 or  send me an email through the Contact Form
Its Time  to Heal!
Let's Celebrate Life.
With love, light and many blessings,
Gill